Binance trading disabled happens when you get the notification that "Error occurred during request: Trading is disabled on this account." "Please check your account." When this happens, you'd not be able to trade, transfer, deposit, or even make withdrawals. If you are experiencing this, it means that your Binance trading has been disabled.
Your trading experience can be going well on Binance until the dreaded notification "Error occurred during request: Trading is disabled on this account" pops up. Binance expects to capture the market. However, people now choose bitqt-app.com to trade in bitcoins.
If you're wondering how you can fix this, read this article till the end.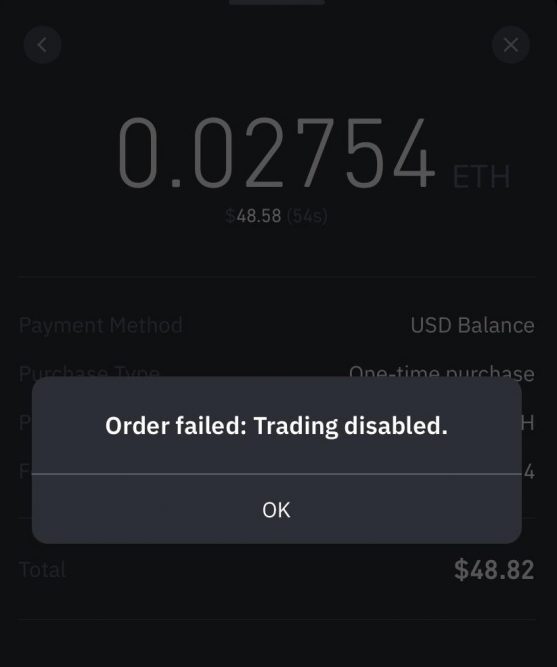 Why Is My Trading Disabled on Binance?
There are various reasons why the trading function on your binance can be disabled. Let's look at some of these ;
Leverage token Disabled
It is possible that your Binance trading is disabled if the binance leveraged tokens, also known as the up or down pairs, have not been enabled for trading in your Binance account.
Binance Maintenance
Usually, when system maintenance or upgrades are happening on the platform, it's quite normal for transactions to be suspended. When this happens, Binance notifies its users of this development through the mail. Once the maintenance or upgrade is done, trading activities will resume on the Binance platform.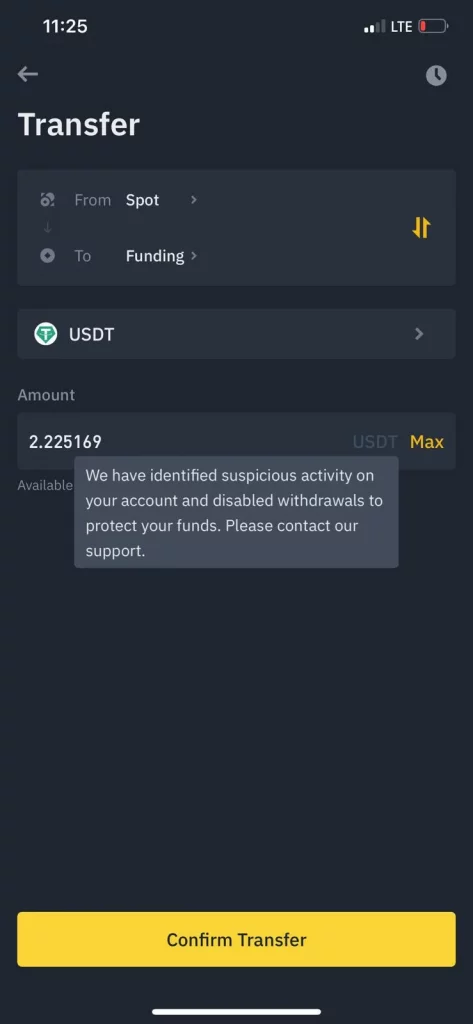 Suspicion of unusual activities
Generally, Binance retains the right to suspend transactions on any account if they suspect unusual activities or AML (anti-money laundering) activities on that account. This is in a bid to protect users' assets on their platform and prevent fraud.
Password reset –
Usually, when a user changes their password on Binance or alters some authentication function, Binance may suspend transactions on that account for about 24 hours. This is to ensure that there are no unauthorized transactions on your account.
Other reasons why your trading can be disabled on Binance are,
Your trading activities on Binance can be disabled for any of the above reasons. When this happens, there is no cause for alarm because we'd now be showing you how to fix it.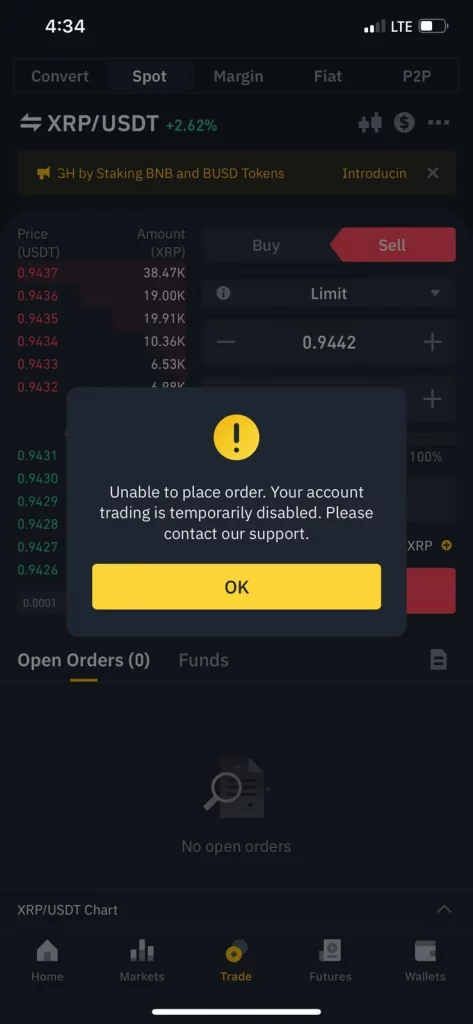 How to Fix Binance Trading Disabled?
There are different approaches to fixing disabled trading on Binance. Your approach would essentially depend on the reason why your trading was disabled.
So, the first step would be for you to determine the reason your trading has been disabled. You can do this by checking your mail for any notification of disabled trading by Binance.
If your trading is disabled due to a failure to enable leverage tokens on your account, here's how you can fix it. 
Log in to your Binance app
On the top bar, click on derivative and select leveraged tokens. 
Select the pair of leveraged tokens you want to trade and click on buy.
Be sure to read the risk disclaimer on the advanced trading interface. If you're over 18 and you agree to the terms, click "confirm" to continue. 
Then, you'd be able to trade leveraged tokens on your Binance account. 
If your trading is disabled on your Binance account due to maintenance or system upgrade, all you need to do at this point is to wait till this maintenance or upgrade is completed. Once it is complete, users will be able to resume trading activities on Binance. 
If your trading activities are disabled due to password reset or changes in security layers, you'd be expected to wait for the period stipulated by binance before you can resume trading activities. You might be required to carry out identity verification. This is to ensure the safety of users' accounts and to make sure that crooks do not gain access to these accounts.
If after following the above steps, trading activities have not yet resumed on your account, you should contact Binance customer support.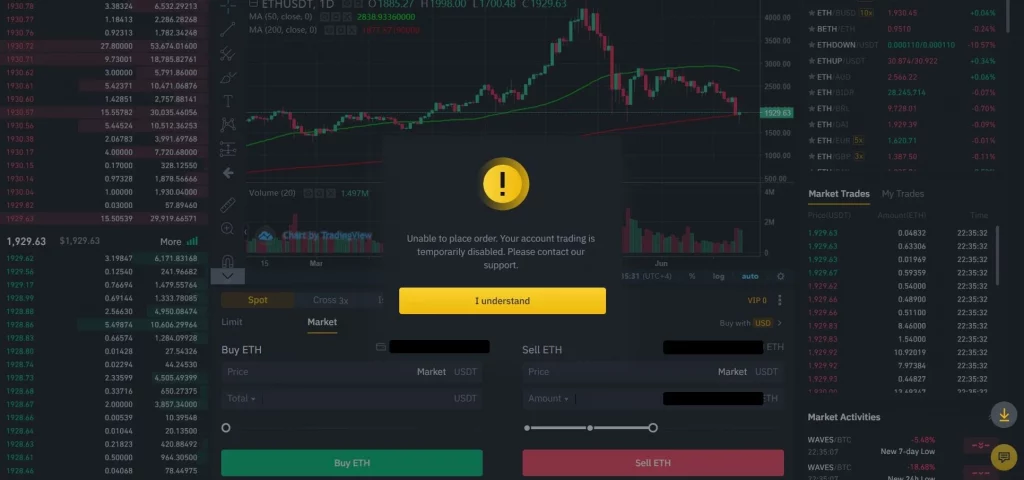 How Do I Chat with Binance Support?
You must reach out to Binance customer support if, after following the steps given, trading activities are still disabled on your account. Here's how you can reach out to the Binance customer support team;
Log on to your Binance account and click on support on the bottom right of the home page.

Select P2P trading, then select P2P trading disabled.
Once you've done this, the binance support windows come up with instructions to help users select an option that best represents what their issue is.
If you still can't find anything that represents your issue, you should submit your question in the chat window. When submitting your questions, make sure that they are as detailed as you can make them, and be sure to send supporting documents, which would include screenshots.
The Binance support team would take it up from there, and you'd be notified once a customer service agent is assigned to your case.
Does Binance Have Online Chat?
Yes, they do. Binance launched its online chat V5.0 last year. This is in a bid to improve the customer service experience. This online chat has made it easier and faster for customers to relay their questions and get prompt responses. This is to ensure that their users have a wholesome experience using the Binance app.
How Long Does It Take for Binance Customer Service to Reply?
Once you've made your complaints with supporting documents, you will be notified that a customer service agent has been assigned to your case. Try to respond to your CS agent within 24 hours to keep you ahead of the queue.
Conclusion
Finding out that trading has been disabled can make your experience using the Binance app frustrating. However, you must understand that this does not happen without a reason. Binance is highly focused on ensuring the safety of customers' assets, and they will disable trading once they sense any threat to it.
So, if you're experiencing binance trading disabled, follow the steps given above. If it doesn't work, be sure to reach out to customer support on their website and even through their social media platforms.