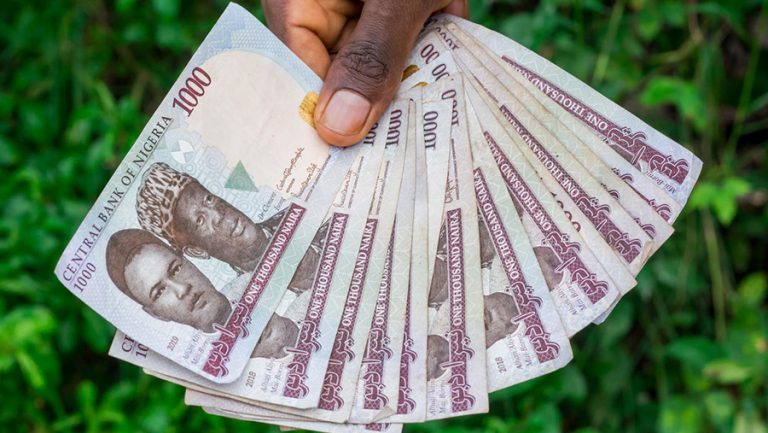 A government-issued digital currency functions differently from cryptocurrencies such as Bitcoin. The CBN believes that the e-Naira would promote financial inclusion and a cashless policy. This digital money is specifically designed to help facilitate transactions, but it differs from existing digital currencies in that it will be issued by a sovereign body, the CBN. In this context, we will be addressing the things you need to know about the E-Naira.
What is CBDC?
CBDC is a digital sovereign currency representation issued by the monetary authority of a country such as the Central Bank. It may be of interest to you to know that in 2017, research on the establishment of Nigeria's digital currency began. The Central Bank that issued it is directly responsible. It is not intended to substitute cash and bank deposits but to cohabit as a type of supplementary means of exchange
CBDC is classified into two types: 
Retail: 

This

 

CBDC is often intended for the general public and normal customers doing everyday transactions

Wholesale: 

It is appropriate for swapping and trading amongst one another.
The e-Naira does not require physical backing because it was created for digital transactions. While it won't rise in value as much as Bitcoin or other cryptocurrencies, it will function similarly to the Nigerian naira. 
Things You Need To Know About the E-Naira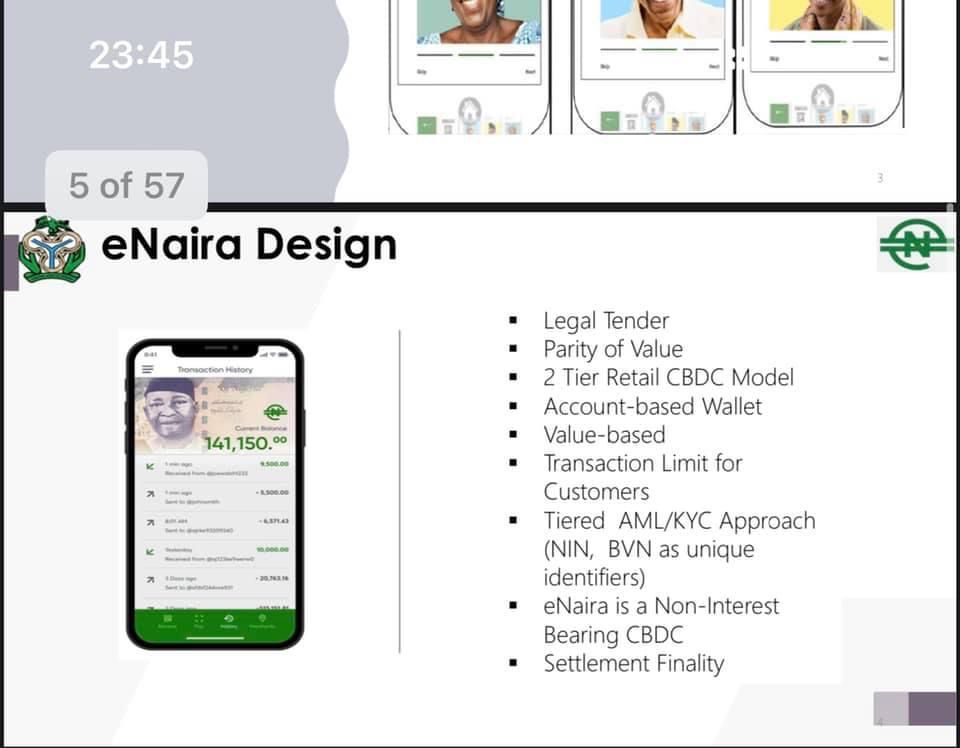 The e-value nairas will be connected to the Naira, similar to how stable coins are tied to the dollar. The e-Naira will be formed independently of bank accounts, with financial institutions creating customer identities through an application product interface.
1. How does eNaira work?
The whole idea of CBN launching a digital currency is an interesting one. However, let's take a look at the building blocks put in place to ensure the smooth operation of the system. Knowing how eNaira works are one of the things you need to know about the E-Naira.
Like in crypto, the eNaira will be a peer-to-peer (P2P) transaction between persons who have the eNaira wallet. The wallets will let you store, transfer, and receive the eNaira.
"According to Mohammed, the GIANT project will run on the Hyperledger Fabric Blockchain. The Hyperledger Fabric blockchain is a private and permissioned blockchain network created by International Business Machines Corporation, a computer hardware business (IBM). "
They are permissioned blockchains in the sense that each party is recognized and that each transaction is authenticated, approved, validated, and monitored. Unlike Bitcoin, where transactions are authorized by majority nodes, the CBN controls who may use the platform and can reject or overturn a transaction if it sees appropriate.
2. Will eNaira be continuously minted?
According to sources on this subject, Chuta thinks that CBN is the only one minting digital currency, in contradiction to Owonibi's claims that fintech with licenses may mint eNaira. Any digital currency to keep inflation under control will be backed up by a legal claim of CBN. 
He characterizes it as a "legal claim for the physical vote of the Naira." Chuta outlines steps towards the e-Naira implementation, including CBN currency issuance, distribution by licensed financial institutions, exchange between people and companies, and CBN supervision.
Check out our comprehensive list of Online businesses that pay in Nigeria.
3. E-Naira Launch date
When the plan is finally established, Nigeria will be competing with other nations across the world and in Africa to create its CBDC. 
On October 1st, this Central Bank Digital Currency (CBDC) will be introduced. According to Rakiya Mohammed, about 80% of central banks across the globe are looking at the potential of launching their own central bank digital currency (CBDC), and Nigeria cannot afford to fall behind. Since 2017, the apex bank has been studying the establishment of a digital currency. 
4. What is the Growth potential of the E-Naira?
The value of the CBN's digital currency would most likely be pegged to the naira when the pilot plan is ultimately introduced. E-value will be tied to the Naira in the same way the stable coin usdT is tied to the US dollar. China's digital Yuan, which serves as a substitute for the Yuan, with one digital Yuan equaling one real Yuan. The CBN's digital currency will depreciate and inflate at the same rate as the naira.
5. Types of eNaira wallets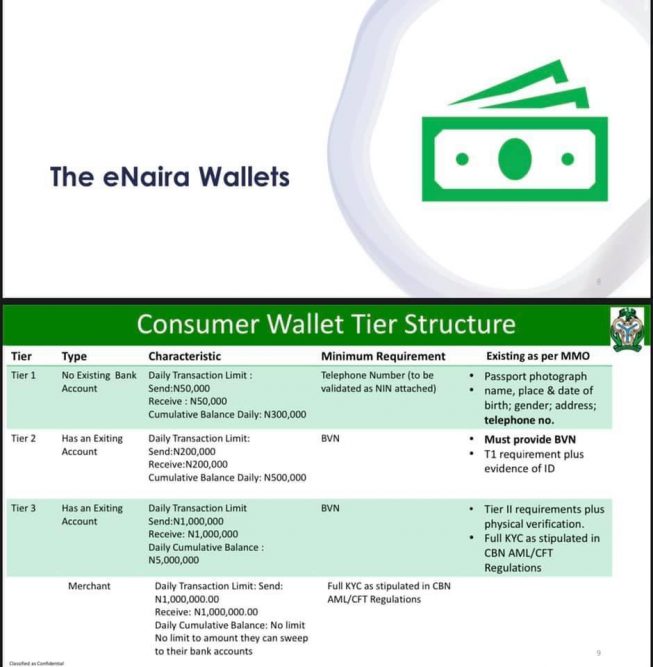 The CBN is on track to release a wallet for its digital currency. There are three major tiers eNaira Wallets. When it comes to things you need to know about the E-Naira, wallet types are essential. Following the debut of this digital currency, Nigerian banks will be able to invite all of their clients to register for the e-Naira, which will include the requisite validation and verification processes. The eNaira wallet, also known as the Speed Wallet, will be divided into three tiers. 
What is the eNaira Tier 1 wallet? 
As you may have already surmised, the tier system, however, simply helps to create a more organized system for various prospective users. Of all their account types, this is the basic option. You may even liken it to the saving account type offered by banks. However, compared to a bank account, the policies of operation are different, and of course, this is a digital version of our fiat currency. Tier 1 wallet is available to everyone who does not have a bank account. 
Account Feature
This account has a transfer restriction of N50,000 and a daily cumulative balance of N300,000 set.
Basic requirement 
With the smallest requirement, opening this account is easy and fast. This account is made available to reduce the barrier of entry to using eNaira to the barest minimum. All you need is a phone number, a valid NIN number, and a passport photograph.
What is the eNaira Tier 2 wallet?
Now, as you can tell by the tier type, this is a more advanced account type. This account is designed to grant users more flexibility, as long as they meet the requirements. If you want to go a set further by carrying out more transactions with your account, this will be a good choice. Before qualifying to have an account of this tier, you need to have a bank account. Let's go into more detail about the characteristics of this wallet. 
Account Feature 
This account has a transfer restriction of N200,000 and a daily cumulative balance of N500,000 set.
Basic requirement 
The minimum requirement for tier 2 wallets is an existing bank account with a linked bank verification number (BVN). You will also need an active phone number, a valid NIN number, and a passport photograph.
What is the eNaira Tier 3 wallet?
Last but not least in the tier hierarchy is the tier 3 wallet. With this wallet, you will be given more room/freedom to carry out larger transactions at ease. However, with its advanced features compared to the first and second-tier comes a good amount of requirements. The average individual with a full sale of IDs should be able to qualify for this wallet. That said, let's take a more in-depth look at the requirements to claim this account.
Account Feature
Tier 3 wallet users have a daily transaction limit of N1,000, 000, with a maximum amount of N5,000,000. 
Basic requirement 
To obtain this wallet category, you'll need at least a BVN, and a full KYC is required by CBN AML/CFT guidelines. You also need an existing bank account with a linked bank verification number (BVN), an active phone number, accompanied with a valid NIN number, and a passport photograph.
There is one more wallet type we will be addressing and that is the merchant wallet. On this wallet type, user-to-merchant and peer-to-peer wallet transactions are free of charge in the digital currency infrastructure. The basic requirements for having this wallet are the same as the third-tier requirements. However, it offers even more flexibility. Users have a daily transaction limit of N1,000,000, with no limit on the maximum cumulative amount.
6. What is the difference between CBDC and other currencies?
This article on things you need to know about the E-Naira will not be complete without understanding this key concept. CBDCs and cryptocurrencies are both digital currencies, however, CBDCs are centralized, whereas cryptocurrency is decentralized and users are anonymous. This implies that while cryptocurrencies cannot be monitored or controlled, CBDCs issued by the CBN can. Having noted that both digital currencies operate in distinct ways, there is a silver lining in the country's black cloud of the cryptosystem.
7. What are the benefits of having a digital currency?
The benefits of having a fully functional digital currency are one of the important things you need to know about the E-Naira. According to the CBN, the adopting of a digital currency comes with some tangible advantages, some of them include the following: 
Efficient asset macro-management and economic growth

Easier cross-border trade facilitation

More effective financial inclusion

Monetary policy efficacy

Enhanced payment efficiency

Ease of revenue tax collection

It will promote better remittance, and more. 
Also, drawbacks like expensive minting and printing physical currency will be mitigated. Finally, the introduction of digital currency will help in the reduction in fraudulent operations, counterfeit money in circulation, and armed robbery. Next on things you need to know about the E-Naira, is the disadvantage of a digital currency. 
What is the pitfall of adopting a digital currency? 
In actuality, the suggested digital money is certain to have flaws. Some apparent drawbacks are that a substantial proportion of Nigerians are not proficient in the use of technology, and, most significantly, Nigerian transactions would almost certainly be monitored unrestrictedly.
8. Is it possible for the government to keep track of eNaira transactions?
For security purposes, yes.
According to Chuta, the government is issuing a CBDC to protect its monetary autonomy. The government will lose control if cryptocurrencies such as Bitcoin and Ethereum acquire popularity. As a result, the eNaira is a means of maintaining control. In terms of the transaction protocols, this is one of the things you need to know about the E-Naira.
The Central Bank has stated that NIBSS and other related platforms would continue to be relevant and that current infrastructure may be integrated and exploited in the implementation of the e-Naira. The e-naira system will be subject to extensive security assessments as key national infrastructure. Furthermore, all data and personally-identifying information (PII) will be maintained on the ledger rather than being stored on it.
Click here to access a detailed guide on how to make money on YouTube
9. The E-Naira Program's Participants
Participants are grouped into five core groups. If you wish to fully take advantage of this digital currency, this detail ranks as one of the top things you need to know about the E-Naira.
Monetary Authority Suite:

The CBN will be in charge of the first product component, which will comprise currency issuing, distribution, and redemption. Data is stored on a cloud server, and currency transactions are monitored and analyzed.

Retail Consumer Suite:

For an excellent user experience, employ user-centered designs. The architecture will be extensible to allow for innovation, and it will have sophisticated privacy and security measures.

E-government Suite:

The Government carries out the responsibility of processing digital payments from and to individuals and companies in an effective way.

Financial Institutions Suite:

Currency or issuance of stable coins, the managing of a digital currency between branches, KYC, the identified competence, and the capacity for AML adhesion may be obtained by licensed financial institutions.

Merchants:

This user group will supply low-cost payment and business management software, seamless point-of-sale (POS) services, remote payment solutions, online capabilities, transaction analysis, and reconciliation.
No, the eNaira will not be formed in conjunction with any bank accounts. Last but not least one thing you need to know about the E-Naira is the relationship between eNaira and banks. Financial institutions will build the wallets, and customers will be identified through an application product interface (API). It's a little difficult to connect CBDC wallets to existing bank accounts. However, many people believe that the Bank Verification Numbers (BVN) and wallets should be connected. If this is not the case, people may be able to adopt two identities. This wraps up our article on things you need to know about the E-Naira.